Train stations in Macedonia
Macedonian railways
Getting around by train is a little slower than the other types of transport, but can much more comfortable. Regular train service connects the Republic of Macedonia to Greece in the South and Serbia in the North. Train services across Macedonia are not improved in the past 30 years, though speeds and frequencies are still low. Here, the trains are punctual and low-cost. There are over 900 km of lines, of which 315 km are electrified.
Macedonian Railways (Makedonski Zeleznici) - www.mz.com.mk
Republic of Macedonia is a member of the Inter Rail system so that train lovers from the rest of Europe can now easily include Republic of Macedonia in their future journeys. This pass allows any person who has been a legal resident in Europe (including Algeria, Morocco or Tunisia) for at least six consecutive months (not travelling on a visa, or military personnel living on a base), to travel throughout Europe by train.
Macedonia train/railway - corridor 10 (north-south)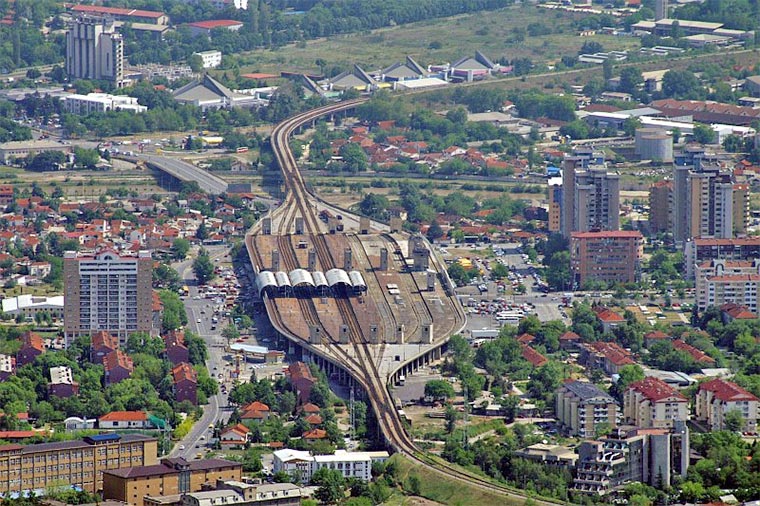 Currently all international lines operate using this corridor.
It's northern point the border with Serbia, Tabanovce and passes through Kumanovo, Skopje, Veles, Gradsko, Negotino, Demir Kapija, Gevgelija and finishes at Gevgelija, the border with Greece. This railway today is electrified, modernized and passes by the E-75 motorway. A branch of this railway is the railway Veles - Prilep - Bitola - Medzitlija, that connects this Macedonian cities with north-western Greece and Thessaloniki.
This is the first railway, that was actually built in Macedonia in 1873 (by the Ottomans), on the relation Skopje - Thessaloniki. Bitola was connected to Thessaloniki by rail, in 1894.
Macedonia train/railway - corridor 8 (east-west)
Currently no international line use this corridor so far, since there is no international connection with Albania and Bulgaria.
The railway on the corridor 8, represents the relation Beljakovce - Kumanovo - Skopje - Tetovo - Gostivar - Kicevo. Central route (branch B) of the corridor 8 railway, is the relation Veles - Stip - Kocani, in the eastern part of Macedonia.
There is plan for upgrading of existing rail roads and construction of a new rail roads on the corridor 8. It is suppose to a reconstruction to be done of the already existing 30 km-long Kumanovo - Beljakovce rail road line, construction of a new 55 km-long line between Beljakovce and Deve Bair and construction of a new 66 km-long line between Kičevo and Linn (Albania).